Welcome! Enjoy Shopping all our Deals!
Bulk Promotional Items, Custom Corporate Gifts & Trade show Giveaways
Are you Looking for the perfect Promotional Product that will set your event apart from all the others? We have what you need!
Dynamite Promotional Products provides a SUPERIOR business promotional product buying experience so that you will order from us now and also continue to work with us for years to come. We take pride in working harder and smarter than our competition to ensure you get the best service, lowest bulk promotional item prices and the most creative ideas anywhere.
Deal of the Hour ⌛️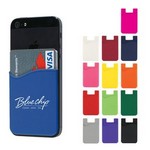 Silicone Phone Wallet
Adheres To Back Of Your Phone With Strong Adhesive. Perfect For Carrying Identification, Room Keys, Cash Or Credit Cards. Silicone Material. 2 1/4" W x 3 3/8" H
$0.99 - $1.73
We LOVE our Customers! What do they have to say about us?